7 reasons why almond oil may turn out to be better for you than grape seed oil
It sometimes happens that we need to make a tough choice like for example this one – Which one is better: almond oil or grape seed oil?
When you are keen on the finest beauty products, then you should seek no further because the winner is only one: sweet almond oil. Why does it appear to be better and which almond oil to choose?

WHY SHOULD YOU CHOOSE SWEET ALMOND OIL TO IMPROVE THE STATE OF HAIR AND SKIN?
1. Almond oil is commonly used for beauty purposes, whereas grape seed oil is mostly used for cooking
Grape seed oil isn't so commonly added to beauty products as it happens with lightweight and well-absorbing sweet almond oil. Obviously, all natural oils are suitable to be used in skin and hair care, but for some of them it'd be better to be left in the kitchen. Instead of using the cooking oils, you should go for the oils with proven beautifying properties.
2. Grape seed oil suits mostly damaged hair, whereas almond oil appears to be more universal
Owing to a high concentration of unsaturated fatty acids, grape seed oil serves its purpose when applied to damaged hair. Other hair types might be overburdened and even their condition might deteriorate when exposed to grape seed oil too often. Therefore, almond oil seems to be a better choice because it positively influences all hair types, and additionally it can be applied directly to sensitive scalp.
3. Sweet almond oil is gentle so it can be applied to hypersensitive scalp
It's worth realizing that sweet almond oil is the gentlest of all natural beauty oils. It can be used to cure or soothe various skin conditions because it brings relief, doesn't clog skin pores and is lightweight.
4. Natural almond oil has less greasy consistency which eases application to skin and hair
Light consistency of sweet almond oil makes it incredibly simple to use. Neither does it need to be thinned with water nor blended with other oils. Moreover, it doesn't leave any greasy feel on hair and skin. Sadly, the same thing can't be said about grape seed oil.
5. The ratio of unsaturated and saturated fatty acids in grape seed oil isn't as beneficial as in sweet almond oil
Both grape seed oil and almond oil contain fatty acids omega-3, omega-6 i omega-9. However, it's almond oil that offers the optimal balance of the very fatty acids, which flawlessly answers the needs of hair and skin. Only few natural oils have so well-balanced nourishing substance content that supplies hair and skin with all they require to remain beautiful and strong.
6. Only almond oil delivers stunning effects in removing stretch marks, cellulite and wrinkles
Almond oil is known for its anti-ageing properties. It makes skin more supple and lifts it. This oil works like an eraser dealing with wrinkles, cellulite and stretch marks. What might be surprising, almond oil is recommended to future mothers who want to prevent their skin from being blemished by stretch marks typical to appear on abdomen area during pregnancy period.
7. Almond oil is tolerated by various skin types better and can be used to treat skin of kids
Sweet almond oil can be used to take care this incredibly delicate skin of kids. This is the only natural oil which non-greasiness, gentleness and perfect composition ensure safe use even on baby's skin.

WHY IS ALMOND OIL BY NANOIL BETTER?
Choosing almond oil instead of grape seed oil is just the first step towards effective care. The second step equals finding the sweet almond oil that contains the maximum of nutrients and is of the highest quality – only then can you be sure that it'll condition your hair and skin the way you want it to.
The best beauty almond oil is the unrivaled Nanoil Sweet Almond Oil, which quality is proven by a few facts:
It's cold-pressed, which is why it didn't lose its precious substances during the extraction process.
It's unrefined therefore it contains 100% of what almond nuts have to offer.
Its composition is entirely made of the oil extracted from almond nuts.
It's certified by Ecocert, which proves that the oil's quality is high.
It doesn't contain parabens, silicone, aroma compounds.
The highest quality of Nanoil Sweet Almond Oil is also proven by the comprehensive care that it's able to provide to hair and skin.
When applied to scalp, Sweet Almond Oil by Nanoil nourishes and moisturizes. Moreover, it prevents dehydration, itchiness and irritations. If you're systematic with Nanoil, you can expect it to strengthen your hair and prevent excessive hair loss. Also, you'll cope with various scalp conditions such as dandruff.
If you keep using Nanoil Sweet Almond Oil in hair oil treatment, the strands are supposed to become fabulous, healthy and full of shine. Thanks to the oil, you supply hair with nutrients and make sure that it's far from being dry. In short, instead of being dehydrated, your hair will become smoothed out, manageable and protected against the sun.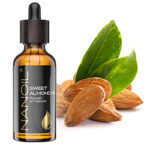 In terms of skin care, Nanoil Sweet Almond Oil is perfectly suitable to be used as a massage oil. It nourishes and makes skin softer in a natural way, improves its tone and boosts skin self-regenerating properties. The oil rejuvenates skin and owing to the skin fixing properties, it may reduce cellulite and stretch marks.
It's also a good idea to use Nanoil Almond Oil to condition face skin. This natural substance is able to maintain the adequate level of hydration, nourish skin and leave it looking beautiful. Also, this organic oil is suitable to be used as the alternative to makeup removers since it deals with colour cosmetics and impurities really well. Moreover, Sweet Almond Oil by Nanoil can be applied instead of a face and eye serum because it displays anti-ageing properties. Finally, it evens out skin tone, soothes irritations, leaves skin velvety smooth and boosts its natural shine.
Fancy learning more information on this oil? Go on nanoil.us.